For me there is no better feeling than being able to get through life with as little as possible. Nevertheless I sometimes feel a great attachment to material things. I've come to realize that this partly has to do with the fact that I live in the city. It is part of the city culture and life-style to have material things. Material gadgets are something we are accustomed to have in our homes. From the mere fact that a modern household needs a functioning toilet (this is in fact a law in Germany!) to the reality that some things are made easier with certain amenities (such as a washing machine). The truth is that the longer we live in one home, and take on a city lifestyle, the more we get accustomed to material objects. City dwellers don't seem to have the time, and sometimes the space or resources to, for example, have a compost toilet outdoors. And this is not necessarily their wish. However, although one cannot live as minimal as possible in the city, there are small habits that could help one live comfortably with less. As for this post I wanted to shortly share an experience I recently had in nature. I will do so in the following short story.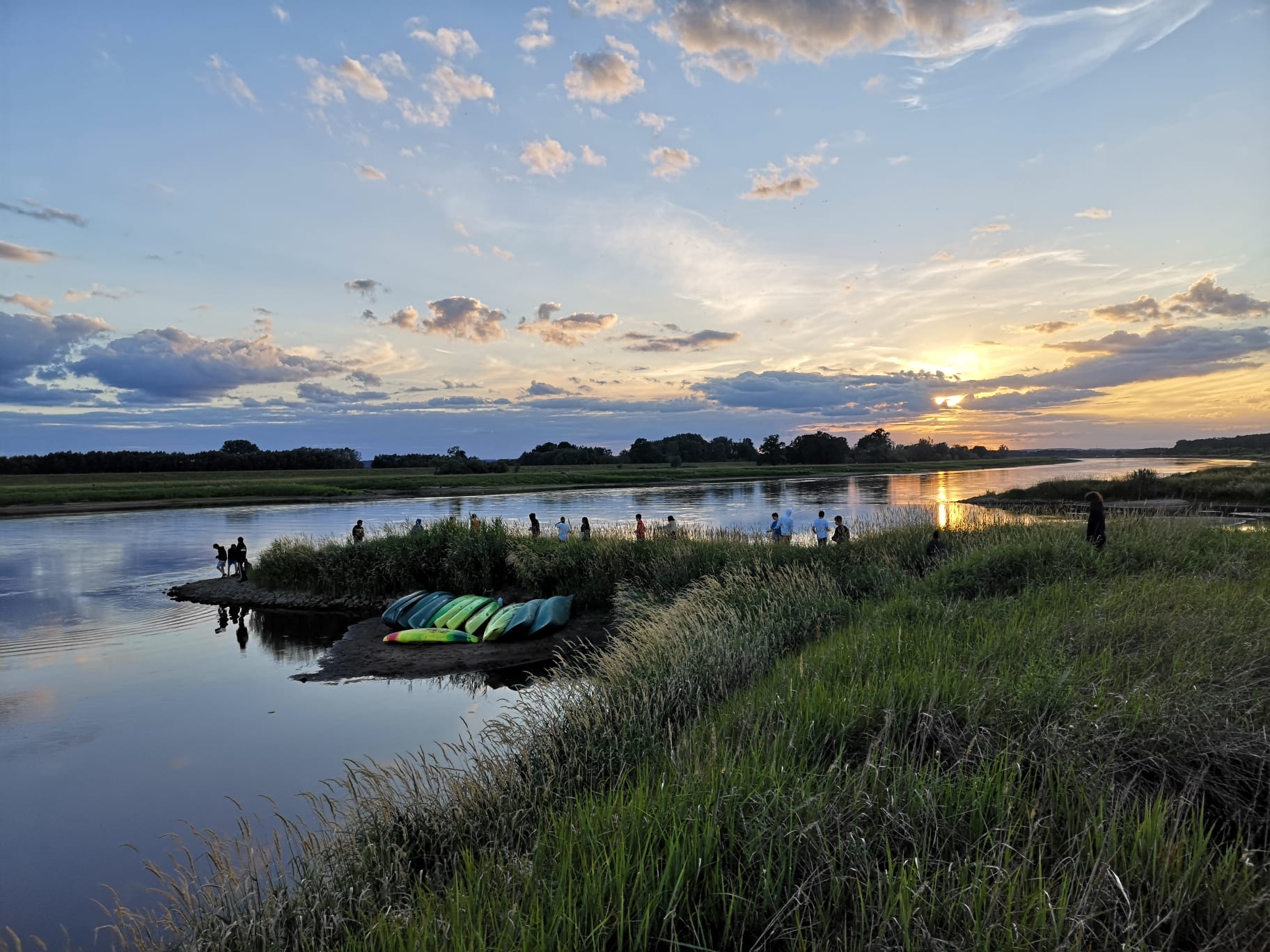 I had heard and experienced it before: Don't pack too many things, in nature we usually use less than in the city. I was embarking on an adventure: 20 kids ages 13 to 15 years old, 5 adults, our tents and outdoor infrastructure (a tarp for the kitchen, gas, etc.), food, four canoes and nine kayaks. We started in "Coschen" and made our way through the "Neisse" and then the "Oder" rivers between Germany and Poland. Every morning started differently but eventually we had to gather and pack everything together and load it in the canoes and kayaks. We would paddle for a bit and near the afternoon we would look for our next home. We then had to unload everything, set up the tents and kitchen tarp, gather wood for a camp fire, dig a hole in the earth to serve as our toilet for the night and morning and make sure the kayaks and canoes were clean and safe on land for the next day. Before I decided to work at this summer camp I was very excited. The adventure, the spontaneity, and the chance to connect with nature intrigued me all the same. I was expecting the biggest challenge to be the interaction with the teenagers and the pedaling every day through the river. Surprisingly it turned out to be far more than that.
I was challenged personally everyday: physically, socially and emotionally and ended up learning from a month-worth of experiences which were in reality summed up in 10 days. Once we reached our final home: a camping place in "Küstrin-Kiez" I was shocked in ways unexpected. Using a civilized toilet felt particularly weird and unnecessary. In the mirror I saw a strange face looking back at me, almost unrecognizable after only 6 days of having her present but not seeing what she looked like. The silence of the nature, which was often slightly concealed by the chatter of 20 teenagers active on a sugar-rush, was shuttered by the noise of electronically transmitted music and the occasional rumble of an engine powered four-wheeled vehicle. Returning to the city I was bothered by every little noise. Eventually I learned to let go and accept my city life as is. However, I always keep in mind the feeling of minimalism and freedom that nature brought and aim to one day live a longer period of time embraced by such wonder.